Canada Summer Games / Jeux du Canada Games
---
2025 CANADA SUMMER GAMES HEAD COACHES
Women's Head Coach/L'entraîneur Chef Femme: Dan Mersereau
Men's Head Coach'L'entraîneur Chef Homme: Bobby Despres
Processus d'essai pour les Jeux du Canada 2025 (English to Follow)
CAMPS D'IDENTIFICATION INITIALE
23 et 24 septembre 2023
Week-end 1 du camp d'identification (essais de l'équipe provinciale 2024)

8 h 00 à 18 h 00 Parc de la rue Prospect, Fredericton, NB
30 septembre/1er octobre 2023
Fin de semaine 2 du camp d'identification (essais de l'équipe provinciale 2024)

8 h 00 à 18 h 00 Evergreen Fields, Moncton, NB
CALENDRIER DES ESSAIS
Mars 2024
Mai 2024
Été 2024
14/15 septembre 2024
19 septembre 2024
DÉTAILS SUPPLÉMENTAIRES
Les athlètes sont fortement encouragés, mais pas obligés, à assister aux camps d'identification (essais de l'équipe provinciale 2024) ou à faire partie d'une équipe provinciale 2024 pour être pris en considération pour l'équipe des Jeux du Canada. Un athlète doit effectuer au moins un essai ouvert pour être pris en compte pour l'essai final de l'équipe (sur invitation uniquement). Bien que Softball NB se réserve le droit d'ajouter/libérer des joueurs à tout moment. L'essai final est obligatoire, des circonstances exceptionnelles seront prises en compte par le staff technique.
COÛT - 75,00 $
(prévu en mars 2024, couvre les deux essais ouverts et l'essai final sur invitation uniquement)
*Les dates exactes sont sujettes à changement.
_______________________________


2025 Canada Summer Games Tryout Process
INITIAL IDENTIFICATION CAMPS
September 23/24, 2023
Identification Camp Weekend 1 (2024 Provincial Team Tryouts)

8:00 am - 6:00 pm Prospect Street Park, Fredericton, NB
September 30/October 1, 2023
Identification Camp Weekend 2 (2024 Provincial Team Tryouts)

8:00 am - 6:00 pm Evergreen Fields, Moncton, NB
TRYOUT TIMELINE
March 2024
May 2024
Summer 2024
September 14/15, 2024
September 19, 2024
ADDITIONAL DETAILS
Athletes are highly encouraged but not required to attend the Identification Camp's (2024 Provincial Team Tryouts), or be on a 2024 Provincial Team to be considered for the Canada Games Team. An athlete must make a minimum of one open tryout to be considered for the final team tryout (Invite Only). Although Softball NB does reserve the right to add/release players at any time. The final tryout is mandatory, exceptional circumstances will be considered by the coaching staff.
COST - $75.00
(due in March 2024, covers the two Open Tryouts and the Final Invite Only Tryout)
* Exact dates are subject to change.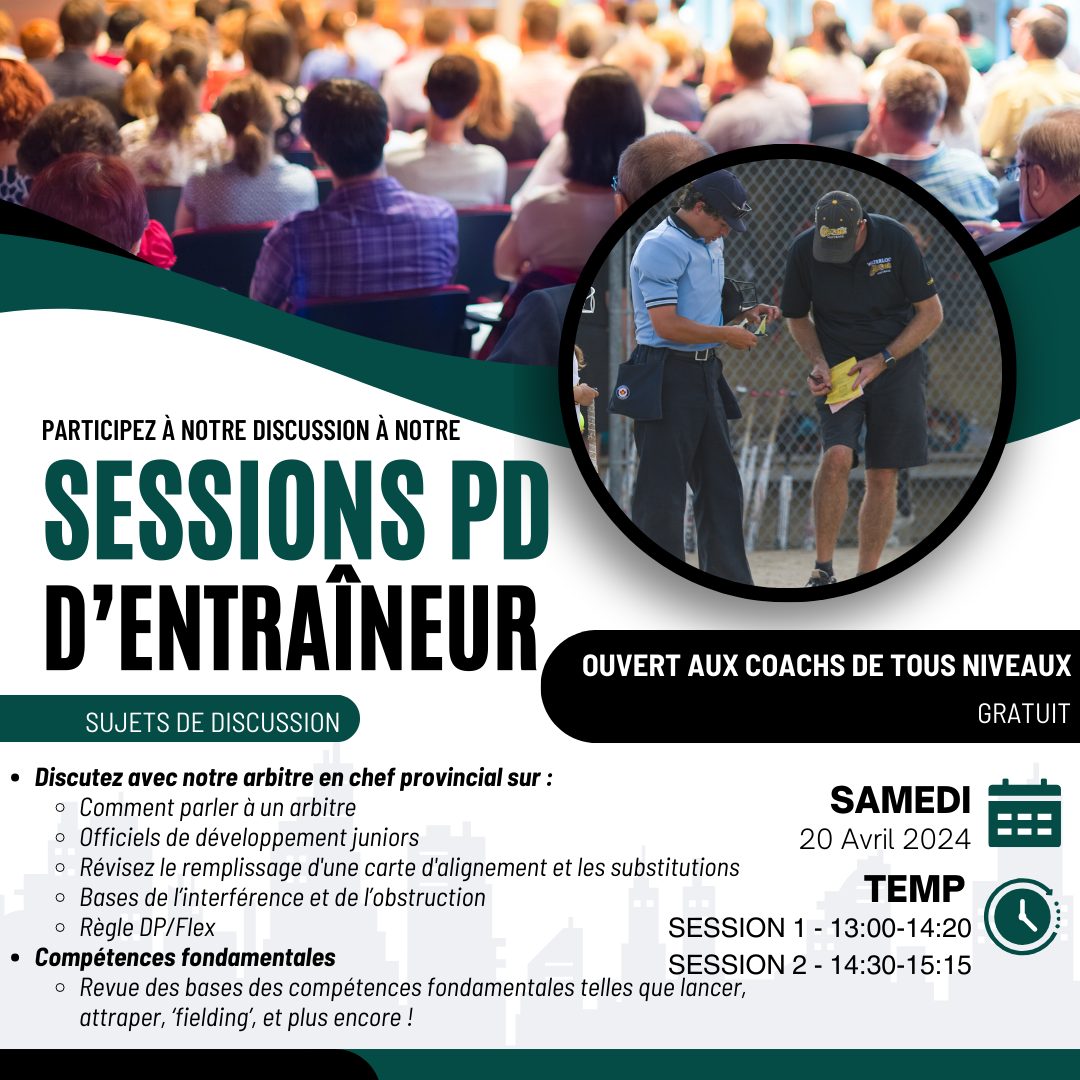 2025 Canada Summer Games
The Canada Games brings together more than 2,000 able-bodied athletes and athletes with physical and intellectual disabilities for the largest amateur multi-sport event in the country. Alternating between winter and summer, they span over 30 different sports to showcase the very best in Canadian sport and spirit. In 2025, the Games will be held in St. Johns, Newfoundland.
Jeux du Canada Games 2025
Les Jeux du Canada rassemblent plus de 2 000 athlètes valides et athlètes ayant des déficiences physiques et intellectuelles pour le plus grand événement multisport amateur au pays. Alternant entre l'hiver et l'été, ils couvrent plus de 30 sports différents pour présenter le meilleur du sport et de l'esprit canadiens. En 2025, les Jeux auront lieu à St. Johns, Terre-Neuve.
---
Softball New Brunswick is beginning the process to select coaches for both the female and male 2025 Canada Summer Games programs. The 2025 Games will be held in St. John's, Newfoundland: Female team will be week one (Aug. 8-24th); Male team will be week two (Aug. 17-24).
Softball NB requires three roles for coaching staff:
Head Coach

Assistant Coach

Team Manager
Female Team: Two (2) coaches and one (1) manager;
Male Team: Two (2) coaches and one (1) manager;
At least one (1) of the coaches must be male-identifying and the male-identifying coach must be one of the base coaches during all games
Age Categories
The Canada Games Council will announce the age categories for both the male and female programs in April 2023
Role of the Head Coach
The applicant must demonstrate advanced game knowledge and strategy, interpersonal, human relations, communication and leadership skills, and be prepared to commit to a minimum two year term preparation plan culminating with the participation in the 2025 Canada Summer Games in St. John's, Newfoundland and Labrador.
Applicants will be subject to a screening process, including a valid Criminal Record Check and Vulnerable Sector Check, in compliance with the Softball New Brunswick Safesport Policy.
In addition to the general responsibilities which are clearly defined as: responsibility for talent identification; athlete preparation; and team development; the Head Coach is subject to an evaluation by Softball NB on an understanding that appointment to this position may be rescinded at any time during the term if all requirements of the Program are not fulfilled.
It will be the responsibility of the head coach to work within the Softball NB policies and procedures, approved budget, and administrative process for all travel, equipment, and uniform purchases.
Athlete selection will be at the discretion of the coaching staff, in conjunction with a series of independent evaluators and the Softball New Brunswick Technical Director; however identification camps at key locations scouting at key events will be required.
Certification Requirements
All members of the coaching staff (Head Coach, Assistant Coach, Manager) must also demonstrate the potential of achieving Competition Development Certified status by February 2025.
In addition to helping lead and guide our athletes to perform at their best at the Games, coaches are responsible for supervising them and ensuring their safety and well-being throughout their Games' experience. This includes travelling on Games' transportation to the Games with our athletes, staying in Games' accommodations with our team, and supervising our athletes throughout the Games. Coaches are responsible for the actions of our athletes. All coaches are expected to uphold and support the rules of the Canada Summer Games and Softball NB.
All applicants should take the time to familiarize themselves with the policies associated with Team NB which will give a clear picture of the requirements and expectations from Softball NB.
Hiring Process
Those who express interest in the position will be required to take part in an information session held via Zoom by Softball New Brunswick. This session will provide coaches with a copy of the Team NB Canada Games handbook, an overview of the Canada Games program, outline coach certification requirements, and answer any questions individuals may have regarding the process.
Following the information session, Softball New Brunswick will have developed a qualified unbiased selection committee consisting of individuals who will be responsible for evaluating the pool of coaches over the 2023 season (May-August). They will observe the pool of coaches in select practice and competition environments.
Coaches selected to the short list will have interviews arranged with our selection committee in August. Coaches will be required to provide insight on their plans for Team preparation starting Fall of 2023 until the Games themselves.
Initial Identification Camps will be scheduled by Softball New Brunswick for September/October 2023.
---
Softball Nouveau-Brunswick entame le processus de sélection des entraîneurs pour les programmes féminin et masculin des Jeux d'été du Canada 2025. Les Jeux de 2025 auront lieu à St. John's, Terre-Neuve : l'équipe féminine sera la première semaine (du 8 au 24 août); L'équipe masculine sera la deuxième semaine (du 17 au 24 août).
Softball NB exige trois rôles pour le personnel d'entraîneurs :
Entraîneur en chef
Entraîneur adjoint
Gestionnaire
Équipe féminine : Deux (2) entraîneurs et un (1) manager ;
Au moins un (1) des entraîneurs doit être une femme et l'entraîneur féminin doit être l'un des entraîneurs de base pendant tous les matchs.
Équipe masculine : Deux (2) entraîneurs et un (1) manager ;
Au moins un (1) des entraîneurs doit être un homme et l'entraîneur masculin doit être l'un des entraîneurs de base pendant tous les matchs.
Catégories d'âge
Le Conseil des Jeux du Canada annoncera les catégories d'âge pour les programmes masculin et féminin en avril 2023
Rôle de l'entraîneur-chef
Le candidat doit démontrer une connaissance et une stratégie avancées du jeu, des relations interpersonnelles, des relations humaines, des compétences en communication et en leadership, et être prêt à s'engager dans un plan de préparation d'au moins deux ans aboutissant à la participation aux Jeux d'été du Canada de 2025 à St. John's, Terre-Neuve et Labrador.
Les candidats seront soumis à un processus de sélection, y compris une vérification de casier judiciaire valide et une vérification du secteur vulnérable, conformément à la politique de sport sécuritaire de Softball Nouveau-Brunswick.
En plus des responsabilités générales qui sont clairement définies comme suit : responsabilité de l'identification des talents ; préparation des athlètes; et développement d'équipe; l'entraîneur-chef est sujet à une évaluation par Softball NB étant entendu que la nomination à ce poste peut être annulée à tout moment pendant le mandat si toutes les exigences du programme ne sont pas remplies.
Il sera de la responsabilité de l'entraîneur en chef de respecter les politiques et procédures de Softball NB, le budget approuvé et le processus administratif pour tous les voyages, l'équipement et les achats d'uniformes.
La sélection des athlètes sera à la discrétion du personnel d'entraîneurs, en collaboration avec une série d'évaluateurs indépendants et le directeur technique de Softball Nouveau-Brunswick; cependant, des camps d'identification à des endroits clés et des repérages lors d'événements clés seront nécessaires.
Exigences de certification
Tous les membres de la personnel d'entraînement (entraîneur-chef, entraîneur adjoint, gestionnaire) doit également démontrer le potentiel d'obtenir le statut de certification de développement de compétition d'ici février 2025.
En plus d'aider à diriger et guider nos athlètes pour qu'ils donnent le meilleur d'eux-mêmes aux Jeux, les entraîneurs sont responsables de les superviser et d'assurer leur sécurité et leur bien-être tout au long de leur expérience des Jeux. Cela comprend le transport des Jeux vers les Jeux avec nos athlètes, le séjour dans les logements des Jeux avec notre équipe et la supervision de nos athlètes tout au long des Jeux. Les entraîneurs sont responsables des actions de nos athlètes. Tous les entraîneurs doivent respecter et soutenir les règles des Jeux d'été du Canada et de Softball NB.
Tous les candidats doivent prendre le temps de se familiariser avec les politiques associées à Équipe NB qui donneront une image claire des exigences et des attentes de Softball NB.
Processus d'embauche
Ceux qui manifestent de l'intérêt pour le poste devront participer à une séance d'information tenue via Zoom par Softball Nouveau-Brunswick. Cette session fournira aux entraîneurs une copie du manuel des Jeux du Canada d'Équipe NB, un aperçu du programme des Jeux du Canada, un aperçu des exigences de certification des entraîneurs et répondra à toutes les questions que les individus pourraient avoir concernant le processus.
Suite à la séance d'information, Softball Nouveau-Brunswick aura développé un comité de sélection qualifié et impartial composé d'individus qui seront responsables d'évaluer le bassin d'entraîneurs au cours de la saison 2023 (mai-août). Ils observeront le groupe d'entraîneurs dans certains environnements d'entraînement et de compétition.
Les entraîneurs sélectionnés sur la liste restreinte auront des entrevues organisées avec notre comité de sélection en août. Les entraîneurs devront fournir un aperçu de leurs plans pour la préparation de l'équipe à partir de l'automne 2023 jusqu'aux Jeux en 2025.
Les camps d'identification initiaux seront programmés par Softball Nouveau-Brunswick pour septembre/octobre 2023.