It's National Coaches Week! / C'est la Semaine nationale des entraîneurs!
---
---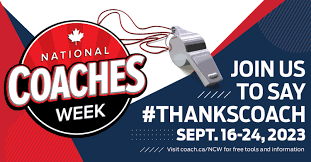 ---
Did you know that September 16-24th is National Coaches Week? Join us over the next week as we say Thanks to our many coaches around the province for all their time, effort and dedication to growing the sport of Softball in New Brunswick. Check back throughout the week for some special shoutouts, education opportunities and a giveaway!
Saviez-vous que du 16 au 24 septembre est la Semaine nationale des entraîneurs ? Rejoignez-nous cette semaine pour dire Merci à nos nombreux entraîneurs de toute la province pour tout leur temps, leurs efforts et leur dévouement à la croissance du sport du softball au Nouveau-Brunswick. Revenez tout au long de la semaine pour des remerciements spéciaux, des opportunités éducatives et un cadeau !