2025 Canada Summer Games Men's Coaching Announcement / Annonce des entraîneurs masculins des Jeux d'été du Canada 2025
---
---
---
Fredericton, NB - Softball New Brunswick is pleased to annouce Bobby Despres (Fredericton) as the Head Coach of the 2025 Canada Summer Games Men's program.
Bobby brings an abundance of playing, coaching, and administrative experience that we are confident will lead to a successful program. We look forward to working closely with him this next 1.5 years, says Hillary Pineau, Executive Director. Over the years, he has held many coaching positions from grassroots to the national level. He has also previously served as the Softball New Brunswick Technical Director, and Coaching Coordinator on the Board of Directors. He looks forward to leading a talented group of male athletes as they prepare to represent the province of New Brunswick at the upcoming Games.
The male game of fast pitch has currently been identified as a priority area for Softball New Brunswick, and through this program we hope to shine light and bring new interest and opportunities for athletes all around the province.
The Canada Summer Games will be held in St. John's, Newfoundland and Labrador, from August 8-24th, 2023 and is the largest multisport competition in Canada. This event will feature 9 of the best U20 Men's softball teams from across the country.
Stay tuned for information on identification camps, beginning this fall.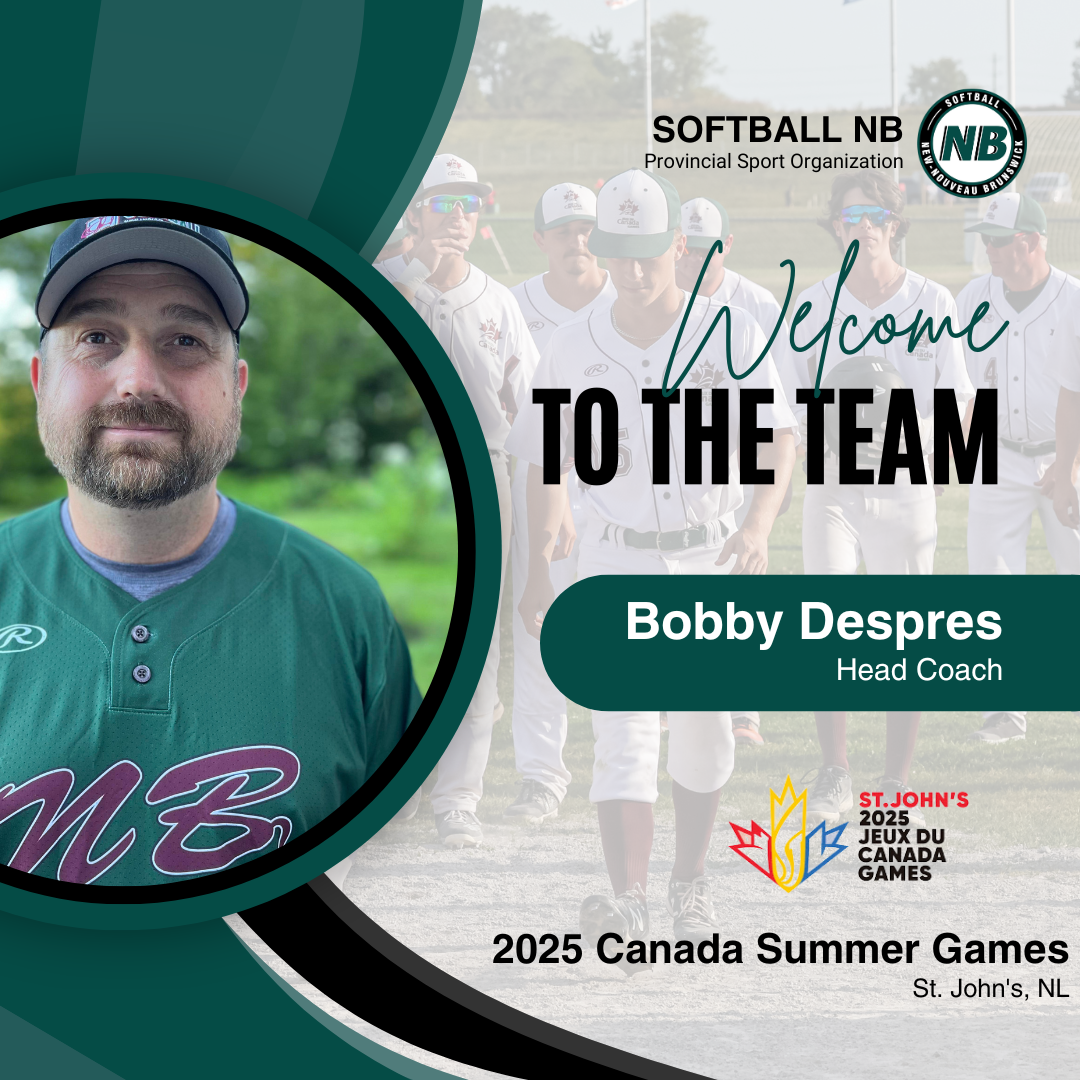 ---
Fredericton, NB - Softball Nouveau-Brunswick est heureux d'annoncer Bobby Despres (Fredericton) comme entraîneur-chef du programme masculin des Jeux d'été du Canada 2025.
Bobby apporte une abondance d'expérience en tant que joueur, entraîneur et administratif qui, nous en sommes convaincus, mènera au succès du programme. Nous sommes impatients de travailler en étroite collaboration avec lui au cours des 1,5 prochaines années, déclare Hillary Pineau, directrice générale. Au fil des années, il a occupé de nombreux postes d'entraîneur, tant au niveau local qu'au niveau national. Il a également été directeur technique de Softball Nouveau-Brunswick et coordonnateur des entraîneurs au conseil d'administration. Il a hâte de diriger un groupe d'athlètes masculins talentueux alors qu'ils se préparent à représenter la province du Nouveau-Brunswick aux prochains Jeux.

Le jeu masculin de balle rapide a été identifié comme un domaine prioritaire pour Softball Nouveau-Brunswick, et grâce à ce programme, nous espérons faire la lumière et apporter de nouveaux intérêts et opportunités aux athlètes de toute la province.
Les Jeux d'été du Canada auront lieu à St. John's, à Terre-Neuve-et-Labrador, du 8 au 24 août 2023 et constituent la plus grande compétition multisports au Canada. Cet événement mettra en vedette 9 des meilleures équipes de softball masculin U20 de tout le pays.
Restez à l'écoute pour plus d'informations sur les camps d'identification, qui débuteront cet automne.