2023 Softball NB Hall of Fame / Temple de la renommée de Softball Nouveau-Brunswick 2023
---
---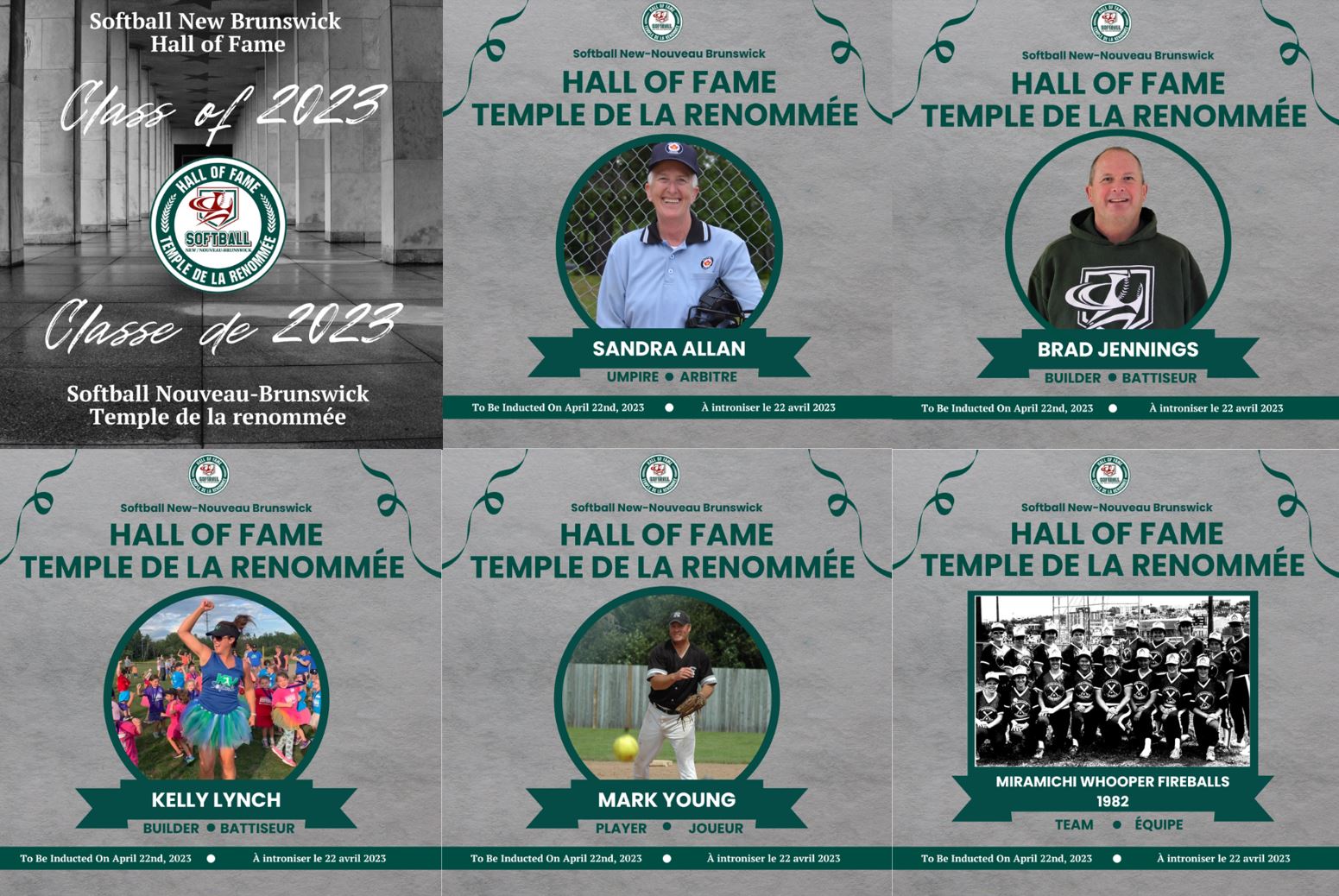 ---
We are very happy to announce today the 2023 class the Softball New Brunswick Hall of Fame!
2023 marks the 28th year of Softball NB recognizing the many individuals in New Brunswick who have dedicated a tremendous amount of time and effort towards improving the game of softball. The commitment, effort, and dedication towards the pursuit of excellence makes this class no different, and very deserving of this induction.
Sandra Allan (Umpire)
Brad Jennings (Builder)
Kelly Lynch (Builder)
Mark Young (Player)
1982 Miramichi Fireballs (Team)
We look forward to honouring the 2023 class at the Hall of Fame Induction Ceremony on Saturday, April 22nd at the Fredericton Inn.
Nous sommes très heureux d'annoncer aujourd'hui la classe 2023 du Temple de la renommée de Softball Nouveau-Brunswick !
L'année 2023 marque la 28e année de reconnaissance par Softball NB des nombreuses personnes du Nouveau-Brunswick qui ont consacré énormément de temps et d'efforts à l'amélioration du jeu de softball. L'engagement, les efforts et le dévouement envers la poursuite de l'excellence font en sorte que cette classe n'est pas différente et mérite grandement cette intronisation.
Sandra Allan (Arbitre)
Brad Jennings (Bâtisseur)
Kelly Lynch (Bâtisseur)
Mark Young (Joueur)
1982 Miramichi Fireballs (Équipe)
Nous avons hâte d'honorer la classe 2023 lors de la cérémonie d'intronisation au Temple de la renommée le samedi 22 avril au Fredericton Inn. Les billets pour la cérémonie seront disponibles en mars.